Red Arrows perform displays in Russia after 22 year gap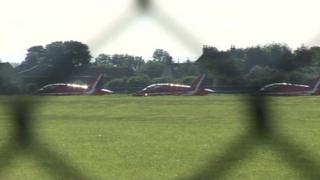 The Red Arrows will perform displays in Russia for the first time in 22 years this weekend.
The Royal Air Force aerobatic team has performed in the country only twice before, at a two-day airshow in 1990.
The displays this weekend are part of centenary celebrations for the Russian Federation Air Force, at an airfield 25 miles (40km) south-east of Moscow.
The Red Arrows left their base at RAF Scampton in Lincolnshire earlier and will arrive in Russia on Friday.
The MAKS event, where the celebrations are taking place, is an international airshow held at Zhukovsky airfield.
'Elegant and stylish'
Maria Vassilieva, who works in the BBC's Moscow office, said it will be interesting for people to compare the piloting crews from Britain with those from Russia.
"I believe that the Red Arrows are quite famous in Russia," she said.
"The kind of show they are doing is very different and the show which the Red Arrows bring to Russia is described as more elegant and stylish.
"These are the words which are used to describe them in all the advertisements which we can see now in Moscow."
The airshow follows one in Russia last year attended by flying crews from all over the world, including the United States.
A senior RAF officer said: "The Red Arrows are the RAF's and Britain's premier ambassadors.
"This is an exciting opportunity for the Red Arrows to work with our Russian partners on a high-profile event, which will enhance the reputation of the UK's armed forces throughout the world."