Inquest's fake cigarette warning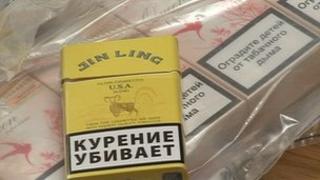 A Lincolnshire coroner has linked illegal cigarettes with the death of a woman in a house fire.
June Buffham, 71, died at her Spalding home in April after falling asleep while smoking Jin Ling cigarettes.
At the inquest in Boston coroner Professor Robert Forrest said many illegal cigarettes continued to burn while left unattended.
Recording a verdict of accidental death, he said more needed to be done to make people aware of the dangers.
The inquest heard that while standard cigarettes still caused fires, the risk was reduced by using paper which was less likely to burn when left.
'Deeply saddened'
Professor Forrest said: "Illegal cigarettes are more dangerous that ordinary ones in that if you leave them in an ashtray or elsewhere they will continue to smoulder.
"Ordinary cigarettes will go out if you don't puff on them."
Lincolnshire Police and Trading Standards said they had carried out a series of raids in recent months and had seized more than 3,000 illegal packets of cigarettes.
Mrs Buffham's family said they were deeply saddened and shocked by her death.
They hoped her story made people aware of the dangers of illicit cigarettes and they hoped no-one else had to go through what they had.