Red Arrows death: Jon Egging 'always in our hearts'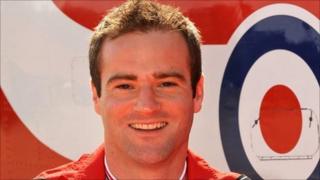 A Red Arrows pilot killed in a crash a year ago will always be in the hearts of friends and family, his widow said.
Flt Lt Jon Egging, based with the Red Arrows in Lincolnshire, died when his plane crashed on 20 August during the Bournemouth Air Festival.
Dr Emma Egging will unveil a memorial sculpture in Bournemouth, Dorset, before this year's festival starts.
The Jon Egging Trust will also hold its inaugural charity Red Ball in the town during the event.
Dr Egging said: "Jon will always be in our hearts and sorely missed.
"Please help us take Jon's positive ethos for life forward by supporting the work of the Jon Egging Trust which was set up in his memory."
The sculpture will be unveiled on the East Overcliff in Bournemouth in a private event for family and friends at the end of August.
The Red Ball will be held at the Bournemouth International Centre on 31 August.
Terry Trevett, chairman of the Bournemouth Red Arrows Association, met Flt Lt Egging the night before he died when the association invited the display team to a barbecue.
"Jon met many of our members who treasure his autograph and photographs they had with him," he said.
Mr Trevett met Flt Lt Egging once before at RAF Scampton in Lincolnshire.
"We have a very close connection with the Reds going back 30 years and this happened literally on our doorstep," he said.
"It has been a very difficult time as you will understand."
The Ministry of Defence said the report into the death of Flt Lt Egging was due to be released in six to eight weeks.
Sqn Ldr Jim Turner said on behalf of the Red Arrows: "A year ago today, our friend and team-mate Jon Egging tragically lost his life at Bournemouth Air Festival.
"Our thoughts and prayers remain with Jon's family on the first anniversary of his death."
Bournemouth Borough Council approached Dr Egging and the pilot's mother Dawn Egging with the idea for the memorial.
Dr Egging then requested the council ran a competition for schoolchildren to send in designs.