Lincolnshire public sector health project reviewed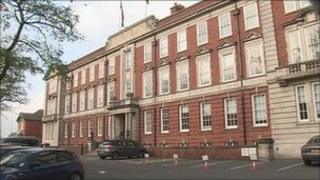 A £700,000 project promoting healthy lifestyles to public sector workers in Lincolnshire is being reviewed after its value for money was questioned.
Information services company Experian has already been paid £298,000 to research the Motiv8 project.
A further £400,000 was set aside to implement the findings of the research in the "intervention" stage.
But Conservative-led Lincolnshire County Council has voted to review this next stage of the project.
Public sector trade union Unison is among those who have had concerns.
Helen Stokes, branch secretary for Unison in Lincolnshire, said: "The majority of the initiatives, such as stop-smoking classes and gym memberships, are already being done by other partnerships in the county council.
"My concerns are that the programme has been discussed for nearly four years now, there has been a lot of money already spent - in excess of £300,000 - and we are not actually seeing any benefits from it.
"There is nothing physically on the ground that will help our members."
'Long-term benefits'
It was hoped staff would pass on the healthy living message to their family, friends and communities, becoming "champions" of healthy living.
The project has been defended by Rob Parker, leader of the Labour group on the county council and chair of its value for money committee.
He said it would reduce the amount of sick leave taken by staff.
"I suppose improving health is a long-term thing and that's why I think it's important that we take the long view," Mr Parker said.
Jo Hart, social marketing co-ordinator at NHS Lincolnshire, who has been working on this project, said it was about making healthy lifestyle programmes "more cost-efficient and more beneficial for the staff".
Research for the project included a survey sent to 32,000 public sector workers, but only 4,000 replied.
There were also interviews and focus groups.
As well as spending money advising staff in the second phase of the project, money could be spent on practical facilities such as bike sheds and showers.