RAF Waddington personnel parade through Lincoln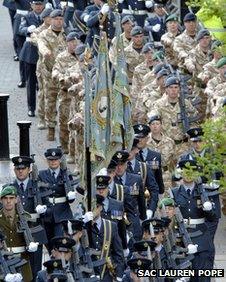 More than 70 personnel from RAF Waddington have paraded through Lincoln to exercise their freedom of the city, which was first granted in 1959.
The march started at Lincoln Cathedral and was accompanied by the Band of the Royal Air Force College, RAF Cranwell.
It last took place in 2010 after last year's parade was cancelled due to operations in Afghanistan and Libya.
A commemoration service to the Battle of Britain was held at the cathedral.
Sq Ldr Liz Brassington, who lead the parade, said: "This is a very special day for RAF Waddington."
She said the march honours "the British and Allied forces that fought and died during the Battle of Britain".
"It also recognises the men and women who continue to serve in the armed forces today."
Related Internet Links
The BBC is not responsible for the content of external sites.