Gravity Fields festival celebrates life of Isaac Newton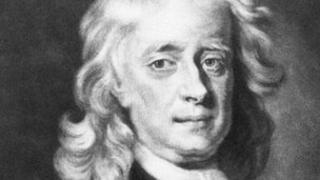 A science festival is under way in the hometown of one of the world's greatest scientists, Sir Isaac Newton.
Gravity Fields is taking place in Grantham, Lincolnshire, and features more than 100 events over the next seven days.
The festival includes science exhibitions, theatre and art - all themed around Newton.
BBC's Bang Goes the Theory presenter Dallas Campbell opened the festival on Friday night.
He said: "It's a huge deal for the town.
"Newton was in the premier league of the greatest scientific thinkers of all time."
South Kesteven District Council has invested £150,000 to stage the event in a bid to boost the town's profile.
Organiser Rosemary Richards said: "The purpose is to attract investors to the town."
If successful the council said it planned to hold the festival every two years.