Boston street drinkers targeted in police crackdown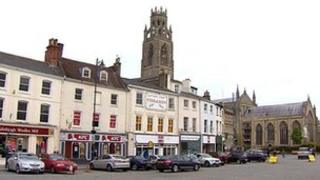 Street drinkers in a Lincolnshire town centre are to be targeted in a police operation.
Boston already has a dispersal order in place which means officers can ask those drinking to stop and arrest them if they refuse.
But residents and businesses have complained this is not being used and visitors are being put off.
Police have now said extra officers will be brought in and banning orders could be imposed.
Dale Broughton, who owns a café in the Marketplace, said: "You can go there at any time and see five or six at there at a time, with their cans, shouting and swearing.
"It is just running the town down - that is why there are so many empty shops in Boston. Older people definitely won't come into town because they are scared."
'Totally unacceptable'
Police have admitted there had been an increase in complaints and said an operation would begin in early October.
Insp Dave Rimmer said town centre banning orders would be considered.
"Ultimately that might be something that is legally at our disposal but initially it will very much focus on education for those people who are drinking in the town centre to make them realise that, on occasions, they do upset people," he said.
"There are people who engage in such things as urinating in the street which is totally unacceptable and those people will be dealt with firmly."
He added officers would be keeping an eye on the town as a whole to make sure the problems was not just moved elsewhere.