Puppies found crammed in ferret box and cat carrier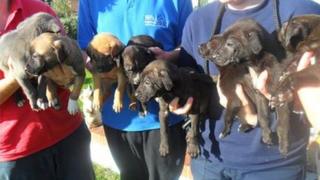 Fourteen puppies have been rescued after they were crammed "like sardines" into a cat carrier and ferret box and dumped in a field.
They were found by a farmer who was working late and heard the sound of yelping coming from near a gate.
An RSPCA officer helped release the puppies, pulling six from the ferret box and eight from the cat carrier.
They were found at about 11:45 BST on Sunday on a road between Dry Doddington and Claypole, in Lincolnshire.
RSPCA officer Fran Whitten said: "All the puppies were so jammed in, they just couldn't move and they were all yelping.
"When we started opening the cages, we just couldn't quite believe it.
'Absolutely horrified'
"These puppies had been crammed in like sardines and it was like a magician's hat where we kept pulling out more and more from each holder, it didn't seem to end.
"I was absolutely horrified that someone had put so many in such small containers and we have no idea how long they had been left there."
The puppies in the ferret box were aged about 14 weeks and the ones in the small cat carrier were about eight weeks old. Some had severe worms.
They are all believed to be cross-breeds and there could be up to three litters.
The RSPCA is investigating the incident and has asked anyone with information to call the charity's appeal line.