Concern over immigration protest in Boston, Lincolnshire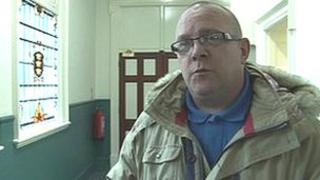 Members of migrant communities are worried a planned anti-immigration protest in Boston will attract groups with extreme views.
A static protest is due to be held in the Lincolnshire town on 18 November.
A protest march was planned in Boston last year, then cancelled when the borough council agreed to set up a task force to address concerns.
A report on population change was published as a result, but campaigners say a protest is still needed.
Beata Polanowska, editor of a monthly newspaper for Polish people living in the East Midlands, said she was surprised a protest was being held.
"I have never had the impression that the feelings towards eastern European migrants were as strong as that," she said.
"This would be the first protest of this kind that I know of.
"I'm concerned that the protest could have wider implications; that it may be used by the right-wing organisations.
"It can breed more racial tensions and more anti-immigrant feelings."
'Raise profile'
Protest organiser Dean Everitt said he was not racist and the protest would highlight problems including a lack of jobs and housing.
Mr Everitt said: "We need to raise the profile of what's going on in Boston to the government."
Boston employs a large number of migrant workers on surrounding farms to harvest fruits and vegetables.
Mr Everitt, who works as a forklift truck driver at a haulage firm, added: "Even the foreigners I work with are saying we've got too many now."
Mr Everitt said there were so many eastern European people working in Boston that some employers were reluctant to employ English people because of the language barrier.
He believes the government should reduce the number of people migrating to the UK.
When asked about the Boston report, Prime Minister David Cameron said welfare reform would encourage British people to fill jobs currently done by workers from the EU.
He said this would in turn lead to fewer people coming to Britain for work.
'Public safety'
Ziedonis Barbaks, from a group called the Latvian Community of Boston Stronger Together, believes the protest will not solve anything.
"I don't see the reason to do that to be honest," he said.
"What I see on the internet and Facebook and everything is that a few people want to come from outside the Boston area and this will probably cause trouble."
The protest will be policed, and Ch Insp Paul Timmins said anyone intent on causing public disorder would be dealt with robustly.
Ch Insp Timmins said: "We have met with the organiser and are now in the process of liaising with our partner agencies including Boston Borough Council to discuss the potential implications.
"Public safety and confidence is of utmost importance and will be at the forefront of our discussions in relation to this issue."
Lincolnshire car garage owner Roman Janikowski, who is Polish and used to work in Boston, said: "The individual protest will not really change anything. There are big corporations out there that just prefer to employ migrants.
"I'd prefer if it didn't happen, but of course everyone has got the right to say what they think."