Mervyn Barrett withdraws from Lincolnshire PCC election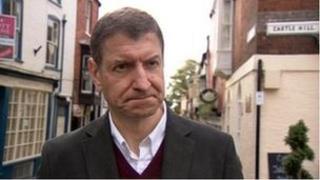 A candidate has withdrawn from the election to become Lincolnshire's first police and crime commissioner following questions about his campaign team.
The Sunday Telegraph said independent candidate Mervyn Barrett was being "secretly backed" by companies pushing for police privatisation.
In a statement on Sunday, Mr Barrett said he was not "for sale" and had complied with electoral law.
He later added that he had been honest and genuine in his intentions.
Steve Swain, deputy police area returning officer for Lincolnshire, confirmed he had received Mr Barrett's notice of withdrawal, meaning he was no longer running.
Mr Barrett did not attend a police and crime commissioner hustings in Lincoln on Tuesday.
A message on his Twitter page said: "Just to confirm that due to unforeseen circumstances I won't be able to make the #PCC hustings tonight at Lincoln Drill Hall. You go though!"
Supported G4S partnership
His campaign was led by a man who claimed to be working for an American right wing lobbying organisation.
The campaign leader told the BBC he was responsible for the European operations of the organisation, and that the organisation supported greater involvement of the private and third sectors in policing.
During his campaign, Mr Barrett said he backed Lincolnshire Police's partnership with G4S, under which two-thirds of civilian staff transferred to the private security firm in April this year.
Mr Barrett worked for crime reduction charity Nacro for more than 30 years and was made an OBE in 1999 for services to crime reduction.
In his statement on Sunday he said: "The policies contained within my manifesto were developed and agreed by me alone.
"They represent the results of my best thinking and my experience developed over three decades in the field of criminal justice."
The remaining candidates standing for election in Lincolnshire on 15 November are Richard Davies for the Conservatives; Paul Gleeson for Labour; independent candidate David Bowles and independent Alan Hardwick.