Council apologises over five-hour Boston flood siren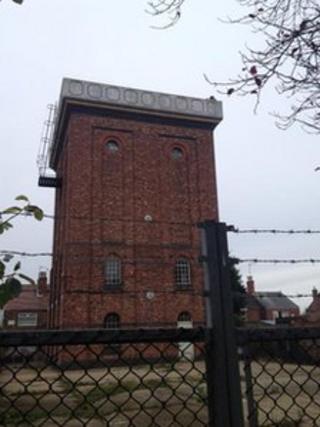 Residents of a Lincolnshire town were kept awake for five hours after a faulty flood siren was wrongly triggered.
People in Boston were woken at about 03:00 GMT on Sunday by the siren in an old water tower on Horncastle Road.
Lincolnshire County Council has apologised, saying it had not been able to find the building's owners to switch the siren off.
The siren was meant to have been decommissioned 12 months ago.
David Powell, head of emergency planning at Lincolnshire County Council, said no-one had been able to get into the building to switch off the siren.
"We would like to give an absolute unreserved apology to everyone in Boston who heard the siren," he said.
"We had 46 sirens in the county and every other one has now been decommissioned.
"Until yesterday morning, we had been unable to identify the owners of the building, who actually live nearby.
"We were notified at 07:00 GMT and the siren was off by 08:15 GMT."
'Alarming'
One resident, who did not want to give her name, said the noise had been "horrendous".
"We were woken at about 03:00 and it was very alarming as you think 'is it a flood alert'?
"Then it went on and on. At 07:00, out of desperation, my husband rang the police. It finally went off at 08:15."
Mr Powell added that he believed the siren went off due to "deterioration of wiring".
The 46 Lincolnshire flood sirens, which date back to World War II, have since been replaced with Floodline, a service which notifies people about flooding through texts, calls and emails.