Nomad Trust homeless shelter draws complaints from residents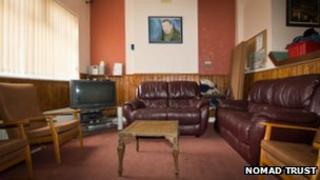 Residents living near a homeless shelter in Lincoln have complained about disruption caused by visitors to the centre.
The emergency shelter, on Monks Road, is run by local charity the Nomad Trust and has space for 21 people.
John Calland, from the Monks Road residents' association, said problems included fighting, vandalism, discarded needles and loitering.
Shelter bosses said they tried their best to mitigate disturbances.
'Urinate in doorways'
On Monday, two men were cautioned by police following a fight outside the shelter, which opened in 1997.
Mr Calland said: "It's really a constant problem. There are people out here every night.
"The Nomad, I'm afraid, attracts them to the area and then keeps them hanging around on the pavement, and takes no responsibility for what takes place outside their front door.
"They urinate in the doorways here, we've had needles left through letterboxes, fighting, windows broken. There's no justification for any of it."
Jim Tweedle, who runs a shop next to the shelter, said he regularly saw large queues forming for it.
'Behave well'
He said: "Incidents have been ongoing since we've been here - just under three years now.
"I'm not having a pop at the homeless. It's a situation I think should be managed better.
"I don't want queues of people outside my door. It needs to be dealt with properly."
Brenda Wilson, deputy manager of the Nomad Trust, said: "We regret any incidents, obviously, because it does cause a disturbance, and we understand that, but it's a fact of life unfortunately.
"We get kick-offs because there are a lot of people wanting to come in and some people get disappointed but on the whole I think our service users behave extremely well.
"Sometimes it's situations out of our control - people who aren't actually accessing the shelter and might have come for some other reason and just happen to be in the vicinity. We try to do what we can."