PCC Alan Hardwick: 'No operational reason' for new custody suite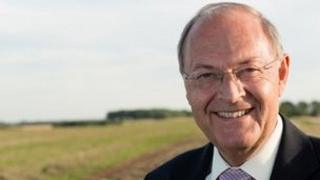 Lincolnshire's police and crime commissioner has said he will scrap plans for an out-of-town custody suite at the force's Nettleham headquarters.
Independent Alan Hardwick said he could "see no operational reason for the plans to go ahead".
The custody and deployment base were part of a 10-year outsourcing contract between Lincolnshire Police and G4S.
G4S said it was a decision for the police commissioner and chief constable to make.
Two-thirds of the civilian staff working for Lincolnshire Police transferred to G4S in April as part of the deal.
Mr Hardwick said: "Because it's within the power of the commissioner, I have decided that the Nettleham project will not go ahead.
'Very relieved'
"It won't be modified, or anything like that - it just will not go ahead."
"I don't think it makes operational sense to have that sort of building in that location," he added.
With regards Lincoln's main police station in West Parade, Mr Hardwick said it would not close but "obviously we are going to have to look at the future of West Parade, with regard to the structure itself."
A spokesperson for G4S said: "The decision over the location and construction of any new police buildings is for the new PCC and the chief constable and we will be happy to undertake any work they may require in the future."
Retired solicitor Sue Turnbull, from the group Save Our Local Village Environment (SOLVE), said she was delighted by the news.
"I'm sure the people of Nettleham, and indeed the people of Lincoln will be very relieved - it means that a proper police station will remain in Lincoln.
"And hopefully, it means that our village will remain as a village. [The plans] just did not bear thinking about."