Boston council finds Assembly Rooms buyer after six years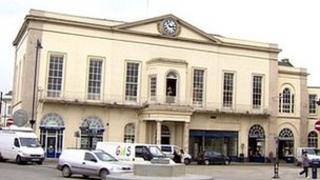 A landmark Lincolnshire building has been sold after years of delays.
Boston Borough Council has been trying to sell the Assembly Rooms for the past six years, saying the Grade II listed structure had no official use.
The council has now been confirmed the building has been bought by businessman Matthew Clark for £465,000.
Mr Clark said business units within the building would be maintained and it would continue to "form part of the community".
The council said it had sold the 19th Century building as it could no longer afford its upkeep.
'Significant investment'
Earlier this year, hopes were high a buyer had been found but "legal issues" meant details were kept secret.
Council leader Peter Bedford, said: "Taking into account all costs and depreciation and allowing for income the Assembly Rooms has cost the public more than £1m over the past six years, when the decision was taken to sell it.
"The town could no longer afford the Assembly Rooms. The building had no commercial future in the hands of a local authority.
"Now the building has a future, but not at any cost to the public purse."
Mr Clark, managing director of the Spalding-based Activ Group, said: "It represents a significant investment for our group and I will personally want to work with as many parties as possible in the district, already being involved with the Chamber of Commerce and looking forward to making more local links with Boston BID among others.
"Ensuring that the people in the district remain proud of the building and it continues to form part of the community is of utmost importance to me, therefore we are hopeful of retaining as many community functions as possible."