Victoria Park: £1.1m revamp to mark WWI centenary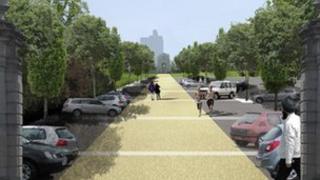 A park in Leicester is being given a £1.1m revamp to help mark the centenary of World War I.
Victoria Park's war memorial and commemorative gates, designed by Sir Edwin Lutyens, are to be linked by rows of trees.
There will also be improved car park facilities that could bring in an extra £45,000 a year.
Mayor Peter Soulsby said: "Victoria Park is one of the city's greatest assets."
The council said it is also considering new toilets for the park and improvements to the tennis courts and skate-park.