Online slot game winner scoops £5.8m from 30p stake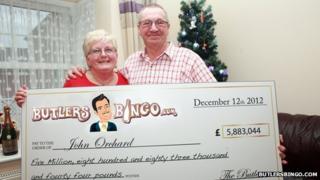 A Lincolnshire man who has won £5.88m after placing a 30p stake on an online slot game says he is determined the money will not change him.
John Orchard, from Long Sutton, said the news had "still not sunk in" and he would discuss with his family how they would spend the money.
Mr Orchard, who had only played the game for a few days, hit the jackpot. on Sunday afternoon.
He added he had decided not to return to work at the job centre.
"With all this money, I just wouldn't feel right going back there," said Mr Orchard.
"We don't want this to change us for the worse but this is going to change our lives. We just want to do the right thing."
'Future is secure'
Mr Orchard, who is married and is father and stepfather, said he did want to buy a Jaguar car.
"I went to a Jaguar dealer yesterday as I have always wanted one and it slowly dawned on me I could just pick any car I liked out of the whole fleet," he said.
Ian O'Farrell, head of promotions at ButlersBingo.com, the site Mr Orchard won the money from, said he believed this was the biggest amount won on an online bingo site.
Mr Orchard added: "This will be the best Christmas ever because we know our future is secure.
"I know from working at the jobcentre that not everyone can sit at the Christmas table and think of next year as something to look forward to. I'm fortunate."