Lincoln Christmas market's attendance drops by 100,000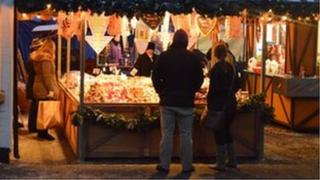 The number of visitors to Lincoln during this year's annual Christmas Market has dropped by 100,000 compared to last year.
City of Lincoln Council said the market had 150 fewer coaches for the December market and a total of 250,000 visitors.
Park-and-ride ticket sales at the event from 1-4 December were also down 28%.
Council spokesman John Latham said the economic downturn hurt the market, but the figures were roughly the same as in 2008 and 2009.
'Too crowded'
"Interestingly, in 2011 there were a lot of the comment … that it was far too crowded and that may have put people off coming back.
"The changes we made this year were intended to make sure the event did not feel so crowded," Mr Latham said.
"We want to make it an enjoyable and pleasant day where safety is important but people can come and enjoy themselves.
"Obviously we want to attract as many people to Lincoln as we possibly can but we have to reflect on the current economic circumstances… people are spending a bit less money."
Emma Tatlow, from Visit Lincoln, said the 2010 cancellation because of poor weather had also affected attendance.
The council introduced a one-way system in 2012 because of safety fears after overcrowding last year.