Police chase 25 escaped horses around Lincoln city centre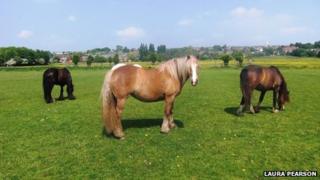 Police spent three hours pursuing 25 horses around Lincoln city centre after they escaped from a common.
Officers used carrots and apples to try to tempt and calm the "spooked" horses, and eventually cornered them in a hospital car park.
At one point the horses were running around the city's cathedral area and one damaged a police car.
The owners of some of the animals helped lead them back to their home in West Common shortly after 06:00 GMT.
A Lincolnshire Police spokesman said: "I'm guessing that something has spooked these horses and just caused them to run.
"It's a very good job that this hasn't happened in the daytime because it would have caused far more disruption.
"They were not necessarily running around for all of those three hours, but they were kind of splitting up into groups at that point and going into various places in the Lincoln area."
'Not 'horsey' people'
Police were alerted shortly before 03:00 GMT after some of the horses were spotted on CCTV.
After escaping from the common through a broken fence, they went to the city's cathedral area and then towards Lincoln County Hospital.
Laura Pearson, who rounded up her pony, Heidi, said: "It was a fairly small area and it was all fenced off, and the police bridged the gaps in the fences.
"I caught Heidi and another one and everyone did the same thing. Eventually there was enough of us to walk two horses back each.
"The police did extremely well considering they weren't 'horsey' people at all."
The police car was not badly damaged.
"Our officers have thought outside the box and come up with anything they could to try and assist in getting the horses back," the spokeswoman said.
"They've actually gone and bought carrots and apples and tried to tempt them back with those."