Search for missing Marion Scott, 83, 'extensive'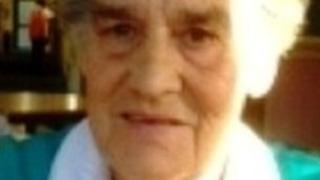 The search for an 83-year-old woman missing from her home in Lincolnshire for a week has involved helicopters, planes and boats, police have said.
Marion Scott, who suffers from dementia, left her home in Acre Close, Market Rasen, on 27 December.
Lincolnshire Police said it was concentrating on a 6 km (3.7 miles) area around Hainton, between Market Rasen and Wragby.
Specialist teams have been carrying out searches in places of shelter.
Insp Simon Outen said: "We don't think anything else has been overlooked. We've spoken extensively with the family.
"She can't recall historical family details so we don't believe she would have the ability to find her way back home."
Mrs Scott is described as being about 5 ft 4 in (1.6 m) tall, of slight build with short black hair.
She was wearing brown cord trousers, grey slip-on shoes and a green top. It is thought she was wearing a pink jacket when she went missing.
Residents in the area have been urged to check their sheds, outbuildings and land for Mrs Scott.