Lincoln's Newport Arch suffers winter damage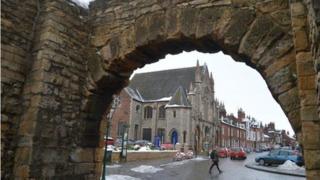 An ancient Roman arch which still allows traffic through is suffering in the severe winter weather.
The Newport Arch formed part of the centuries old city walls in Lincoln and is being damaged by the hard winters.
In 2012, it was put on English Heritage's At Risk programme which has helped attract funding.
The City of Lincoln Council said it had received a substantial grant for the structure and it was looking at major repairs and replacement of stonework.
'Comprehensive repair'
The limestone used to build the 3rd century structure is being eroded by the elements and suffers particularly from frost-thaw - when water enters the stone then freezes and melts.
It is the last Roman arch in the UK to still allow traffic through, according to the council.
Arthur Ward, heritage team leader at the City of Lincoln Council, said: "For the last couple of winters, particularly 2010 and this year, it has suffered quite a bit of damage - stones falling, things like that.
"We have to give it a comprehensive repair, some TLC. We will be replacing stone, re-capping and in some areas re-pointing."
The council has secured a £60,000 grant through Waste Recycling Environmental Limited (WREN) which will be used to fund the complicated repair work.