Cadwell Park footbridge 'ready for race season'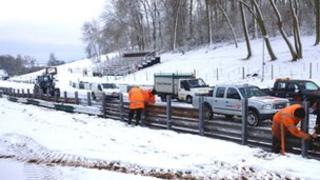 A Lincolnshire racing circuit is installing a new footbridge to improve access for race events.
The 40m (131ft) steel bridge at Cadwell Park will be completed in time for the new season, which starts in March, a spokesman for the circuit said.
The bridge links the paddock with the pit area of the track.
The Cadwell Park maintenance team "battled the winter elements" to complete the work on time, a park spokesman said.
The new bridge will enable fans to switch viewing spots between the start line and other areas of the race course, which is located between Louth and Horncastle.
A spokesman said the bridge is located in a position that does not obstruct spectator views.