Lincolnshire Police in dark over chief's suspension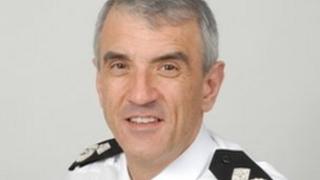 The acting leader of Lincolnshire Police has said the force still does not know why its chief constable was suspended.
Lincolnshire's Police and Crime Commissioner (PCC) Alan Hardwick suspended Neil Rhodes over "conduct matters" last week.
Speaking in an interview with the force's media team, acting Ch Con Alec Wood said it had been a difficult week.
The PCC has not yet revealed the reason for the suspension.
"This has been an unprecedented week for Lincolnshire Police," said Mr Wood.
"It is very unusual for a chief constable to be suspended. The decision has been taken entirely by the PCC. The force and I have no knowledge as to why Neil Rhodes has been suspended.
"All I know is I've been asked to step up as acting chief in the interim and I'll do my very, very best to lead this force forward over the next few weeks and months," he said.
On Monday, Mr Hardwick denied that the suspension of the temporary chief constable has unsettled the force and that it was "business as usual".
G4S deal
Deputy Chief Constable Alec Wood was appointed acting chief constable last week.
Mr Rhodes took up the role on a temporary basis when the previous chief constable Richard Crompton retired at the end of March, last year.
His appointment followed a deal with private security company G4S to run an out-of-town custody suite at the force's Nettleham headquarters, near Lincoln.
He said the changes would save the force money for front-line police officers and police community support officers.
In November Mr Hardwick said he would scrap the plans.