Most councils in Lincolnshire opt to raise council tax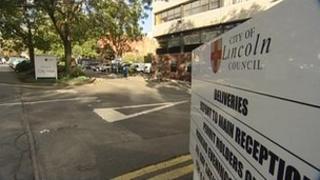 Most taxpayers in Lincolnshire will have to pay more next year as more than half of councils increase tax.
The City of Lincoln Council is the fifth local authority in the county to raise council tax, agreeing to a 1.9% hike on Tuesday.
Meanwhile in Boston it was frozen but the opposition Labour group questioned a decision which could see an increase in allowances for some councillors.
Most councils in England have accepted an incentive not to increase rates.
The City of Lincoln Council approved its budget on Tuesday, which includes a rise in tax and a cut in services.
Meanwhile, North Kesteven District Council, West Lindsey District Council, East Lindsey District Council and South Kesteven District Council have all increased their precepts by as much as 4%, as has the newly-elected police and crime commissioner.
Boston Borough Council has frozen its council tax while South Holland District Council (SHDC) has cut it by 0.3%.
Nationally, 59% of councils have accepted the government's offer of a grant in return for a freeze in council tax, according to a survey by the Chartered Institute of Public Finance and Accountancy.
A row broke out at Boston's Monday night meeting when Labour questioned a potential rise in special responsibility allowances for some councillors and demanded council staff were paid the living wage.
The Conservative-led administration said most councillors worked almost full time for a part-time salary and staff were paid at least minimum wage.
Councillor Raymond Singleton-Maguire, portfolio holder for finance, said: "I think this is probably one of the toughest budgets I've ever known and we have delivered a very, very fair budget."
'Toughest cuts'
City of Lincoln Council leader Ric Metcalfe said: "We simply cannot continue to cut spending in the face of continued reduction in government funding and provide the people of Lincoln with the services they deserve."
Councillor Gary Porter, leader of the Conservative-controlled SHDC, which has cut council tax by 0.3% said: "We reduced it last year and we froze it the year before that.
"We have been able to do it largely because of the shared service arrangement we've got with neighbouring authorities."