Marina plans 'could bring millions' to Boston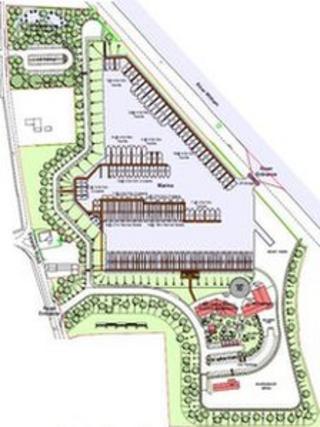 Plans to build a £3m marina in Boston could bring millions of pounds of investment to the town, according to local councillors.
Plans for the 161-berth Gosling Marina, including a bar and an 80-seat family restaurant, have been unanimously approved by Boston Borough Council.
Councillors hope it will improve Boston as a tourist destination.
Work on the marina, which will accommodate narrow boats, yachts and cruisers is expected to start in 2014.
Much-needed boost
The councillors see the scheme as complementing other developments such as the Fens Waterway Link, a multi-million pound project by the Environment Agency, British Waterways and Lincolnshire County Council.
Council leader Peter Bedford said: "Obviously we hope the marina will give the town a much-needed boost and regenerate the waterfront.
"When it is built, it should bring millions to the town, push up property prices and get people coming to Boston - it is a very exciting prospect."
He said some residents had initially objected to the development, but most of the objections had now been withdrawn.
Elliott Fountain is the ward councillor for Fenside, where the development is due to take place.
He said: "It is good for Boston and it's good for boating. There is quite a big boating community here now and hopefully it will get even bigger."
Stephen Rice, director of the applicants GJP Marina Developments, said: "The Fenland waterways are beautiful but largely underused. The more facilities we can provide, the more people will be attracted to the area.
"I don't think the Fens will ever be the Norfolk Broads, but it is a very attractive place to go boating."