Red Arrows ejector seat death: CPS to review Red Arrows fatality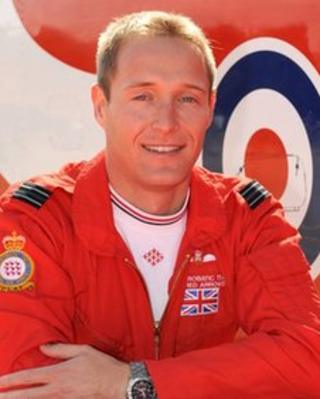 The Crown Prosecution Service will review the death of a Red Arrows pilot who died after he ejected from his cockpit while on the ground in Lincolnshire in 2011.
Lincolnshire Police have handed over the file concerning the death of Flt Lt Sean Cunningham.
He was injured after being ejected from his aircraft at RAF Scampton.
The parachute on the ejection seat did not deploy and the South African-born airman later died in hospital.
Dorset death
Following the incident, the RAF grounded all non-essential flying of all Hawk T1 aircraft fitted with the Mk10 Martin Baker-built ejection seat "as a precaution".
Flights later resumed in December 2011, with the RAF announcing that it had had "no remaining safety concerns".
A Lincolnshire Police spokesman said: "A file has been submitted for consideration by the CPS and as soon as we're in a position to update on that, we will.
"We are not speculating on the matter of any possible offences."
A response from the CPS is expected by the end of the month on whether any criminal charges should be brought in relation to the incident.
An MoD spokesman said: "We are aware that a referral has been made to the CPS in relation to the civil police investigation into this incident.
"Our thoughts remain with the family and friends of Flt Lt Sean Cunningham."
The Red Arrows lost two pilots in 2011 with Flt Lt Cunningham dying in November and pilot Flt Lt Jon Egging, 33, from Rutland, dying when his Hawk aircraft came down after performing at an air show near Bournemouth airport in Dorset in August.