Lincolnshire ambulance station cuts: 'Jeremy Hunt should intervene'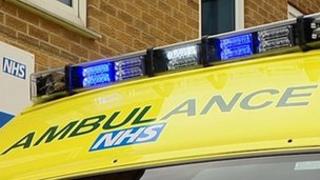 A health group wants the health secretary to intervene over plans to cut the number of ambulance stations in Lincolnshire.
Lincolnshire's Health Scrutiny Committee said East Midlands Ambulance Service's [EMAS] consultation was flawed.
The patient group claimed the plans had changed and the public had not had a chance to have their say.
EMAS said it was confident its decision would be the right one.
Its proposal to replace 65 ambulance stations in the East Midlands with nine "superhubs", 19 stations and more than 100 community points will go to the EMAS board on Monday.
Christine Talbot, who chairs the health scrutiny committee, said she had only recently learned of the latest option and would be bringing it up with Health Secretary Jeremy Hunt.
"I've had correspondence with [Chief Executive Phil Milligan] that he's not happy that we're referring the matter to the secretary of state," said Mrs Talbot.
"But you have to realise that we are there to represent the people of Lincolnshire."
The proposals have also drawn criticism from Bassetlaw MP John Mann.
He said it would mean if a patient lived in a rural area, they would get a paramedic in a car instead of an ambulance.
However, on Tuesday, Mr Milligan said: "The decision we make has to be right for our patients and right for our staff. I am confident that we will get it right for the people of the East Midlands."
EMAS also said the service had to change if improvements were to be made.
The ambulance service ran a public consultation on its future last year but faced strong opposition to the reduction in the number of ambulance stations.
EMAS has said its hubs will be larger than existing stations and contain maintenance facilities.
Smaller community ambulance stations would only contain rest facilities - with some located in existing GP practices or fire stations, it said.