Margaret Thatcher honoured with rose in Grantham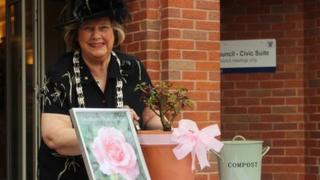 A rose has been unveiled in memory of Baroness Thatcher in her Lincolnshire hometown.
The former prime minister was born Margaret Hilda Roberts in Grantham and grew up at her father Alfred's grocery shop in North Parade.
South Kesteven District Council said a new variety of rose, grown by a firm in Shropshire, had been named Grantham's Thatcher Rose.
The pink flower will be put in the Guildhall near the book of condolence.
Councillor Linda Neal, who attended Baroness Thatcher's funeral at St Paul's Cathedral, said the rose would eventually be replanted in the town's Wyndham Park.
She said she was "honoured to represent people from Grantham and throughout South Kesteven as the nation said farewell to the woman who was born and educated in our town before going on to become the country's first and only female prime minister".
The funeral was shown on a big screen at Grantham Museum.
'Quiet contemplation'
Helen Goral, chairman of the museum, said it gave "people from the local area, and further afield, chance to pay their respects and mark the passing of one of Grantham's most famous exports".
"It's a day of quiet contemplation and reflection and an opportunity for people to say goodbye," she said.
A fundraising campaign began in March for a Thatcher statue and the refurbishment of the museum.
"It will include fitting and balanced exhibits relating to all of Grantham's history but obviously Margaret Thatcher is a big part of that," Ms Goral said.
The Bishop of Grantham, the Rt Rev Tim Ellis, said on Monday that spending millions of pounds on the former prime minister's funeral was a "mistake".
Large crowds lined the route of the funeral procession in central London, which was conducted with full military honours.
There were reports of some protests but not the large demonstrations some had predicted.
Baroness Thatcher spent the first 18 years of her life in Grantham before studying chemistry at Oxford.
Her father was also a mayor of the town and a Methodist lay preacher while her mother, Beatrice, was a dressmaker.
The former prime minister is currently commemorated with a small plaque outside her father's former grocery shop, which attracts visitors from across the world.