Jeno Buzanszky guest of honour at pub team cup final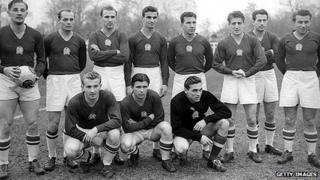 A player from the legendary Hungarian national football team of the 1950s is coming to Lincoln to watch a pub team cup final.
Jeno Buzanszky played for the famed Magical Magyars and was part of the team which reached the World Cup final in 1954.
He will be guest of honour at the County Sunday Cup game between the city's Ivy Tavern and The Ropsley Fox.
Hungarian-born Vic Szendrey, who lives in the city, arranged the visit.
"He's 87 years old, so when I asked him I thought he might say no - but he agreed," said local football coach Mr Szendrey, who is friends with the former right-back.
"When someone like that takes the trouble to come - it makes it very special."
As well as attending the game, Mr Buzanszky will also meet players from the Ivy Tavern on Newport.
Team manager David Matthews said: "I think it's a great idea, meeting someone who's experienced winning at the very top of his profession.
"His honours speak for themselves, so the Ivy can draw inspiration from the fact he's taken the time to come over here and show support for us.
"Games like this don't come around very often and for most of the players it's the biggest game of their career."
The team's captain Sean Cann said: "We are meeting up with Jeno the night before the game, and hopefully his words of wisdom will help spur the Ivy on to victory.
"No team from Lincoln has won the competition for 14 years - so history is against us.
"But hopefully, Mr Buzanszky will be back in the Ivy celebrating with us, if we can bring the cup home"
The match kicks-off at Lincoln City's Sincil Bank ground at 10:45 BST on Sunday.