Spalding Flower Parade hit by tulip shortage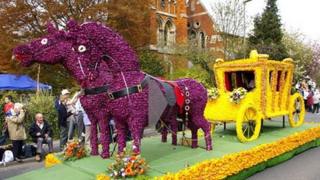 A shortage of tulips caused by the cold weather is affecting the planning of the last flower festival in a Lincolnshire town.
Organisers of the Spalding Flower Parade said they might have to import the flowers from France because the UK variety was still a "vista of leaves".
Growers say they have experienced the worst conditions in living memory.
The event, run since 1959, is being dropped after two local authorities said they could no longer pay for it.
Kathleen Codd, parade manager, said: "There is very little likelihood of getting UK tulips in time for the parade.
"We are looking into the possibility of sourcing flower heads from abroad, possibly from France or elsewhere on the continent."
Ms Codd said if tulip heads could not be sourced in time then a wide variety of other materials would be used for the floats.
A single float of about 50ft (15m) in length can be decorated with as many as 100,000 tulip heads.
The parade on 4 May will be the final one, as councillors have said attendances have fallen to a level where it is difficult to justify supporting the event financially.