East Lindsey wind blown sand clearance 'to take months'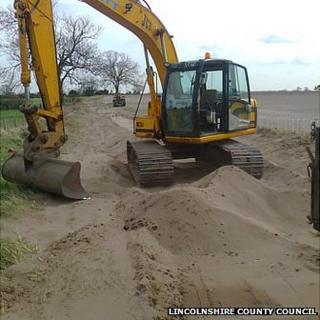 Sand blown inland by strong winds in Lincolnshire could take until June to clear.
Resorts such as Mablethorpe and Sutton-on-Sea had roads, paths and gardens covered after unusually persistent east winds at the end of March.
East Lindsey District Council said much of the work, including clearing flower beds, had to be done by hand.
The Environment Agency is also starting a programming of planting to stabilise dunes used for flood defences nearby.
Winds blowing from the continent took fine sand from the beaches and dumped it inland.
Brushing flowers
As well as blocking access to the beaches, it had made pavements difficult to pass and roads dangerous, with the sand causing cars to skid.
James Gilbert, spokesman for the council, said: "We are used to clearing sand but this was far more than normal. We are usually finished before Easter but this will take until June.
"While machines can be used for some of the work, much of it, going round beach huts and even brushing flowers in ornamental beds, has to be done by hand."
The council estimated it had already moved about 2,500 tonnes of sand.
The Environment Agency is taking separate action to protect sand dune flood defences which are being eroded by the wind.
The agency's Nick Bromidge said the area had been chosen for a trial marram grass planting.
He said: "We are trying to create a more sustainable beach and sea defence that mirrors natural processes to complement the engineered defences.
Inland area have not been immune, with the county council confirming Laughton Road near Gainsborough had been blocked by sand blown from nearby fields.