Boston Assembly Rooms to become nightclub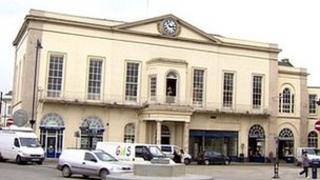 Councillors have granted permission for part of a landmark Lincolnshire building to be used as a nightclub and entertainment venue.
The Grade II listed Boston Assembly Rooms was sold to local businessman Matthew Clark for £465,000 in November.
The first and second floors of the building can now be used as an entertainment venue between between 9:00 and 3:30, seven days a week.
It is expected to be used as a nightclub from Thursdays to Sundays.
Other potential uses include wedding receptions and private parties.
Councillors have only granted planning permission for the use of the building to change, and further planning applications need to be submitted to physically alter the building.
'Some noise'
The building is within the Boston Conservation Area and council officers had pointed out that nearby residents could be disturbed by noise.
A report prepared for the planning meeting stated: "The occupiers of these properties and paying guests of the [White Hart] hotel may experience some levels of noise as a result of people arriving or leaving the premises during the early hours and from noise generated by amplified music."
The noise levels heard at neighbouring residential properties will be monitored, and no part of the building can be used as a nightclub until a noise limiter has been fitted.
Matt Clark from Activ Leisure, which is behind the conversion plans, said he had taken on board council members' questions about noise nuisance.
"I totally understand the concerns about noise," he said.
"I've been very obvious about this from the outset that we want to be part of the community.
"That means we don't want to be annoying anybody in the community."
Boston Borough Council put the venue up for sale after it said it could no longer afford to run it.
The ground floor of the building will continue to be used for a variety of retail and non-retail uses.
The change of use is expected to create at least 35 jobs, including full and part-time positions.