Knighthood for Thatcher's former secretary Edward Leigh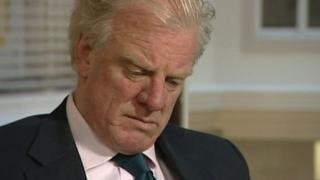 Margaret Thatcher's former private secretary is following in his father's footsteps in receiving a knighthood in the Queen's Birthday Honours.
Conservative MP Edward Leigh worked in the private office of the former prime minister while she was leader of the opposition in 1976/7.
He was in charge of her correspondence.
Mr Leigh, who is married with six children and is a qualified barrister, has been an MP for 30 years.
He was chair of the Public Accounts Committee between 2001 and 2010.
Meryl Ward, of Gainsborough, is appointed MBE for her work on pig welfare.
Mrs Ward, who is director of a farm with 2,200 sows, is widely acknowledged as one of the biggest influences on the improvement of pig welfare in the country.
Roger Fuggle, of Stamford, becomes an MBE for helping to promote the spread of disabled cricket.