WWII veterans visit RAF Coningsby for reunion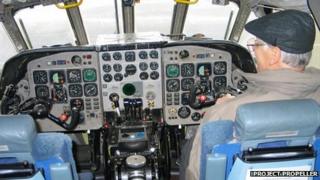 Hundreds of veteran airmen have visited a Lincolnshire air base for their annual reunion.
More than 150 World War II aircrew met with old colleagues and took to the air again on Saturday at the Project Propeller event at RAF Coningsby.
Many of the veterans were flown to the event in light aircraft piloted by volunteers.
It is the first time the airfield has hosted the reunion, which was formerly held at Coventry Airport.