Private firm G4S 'saved Lincolnshire Police £5m'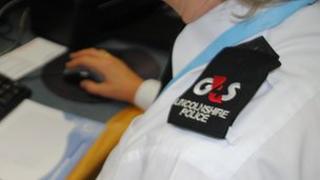 A private company brought in to run some backroom police services in Lincolnshire has claimed it made savings of £5m in its first year.
G4S entered into a £200m, 10-year contract in 2012, with 550 civilian staff transferring to the company.
Police and Crime Commissioner (PCC) Alan Hardwick said crime was also down by 14% in the same period.
John O'Connor, a former Metropolitan Police Commander, said it was "spin" to say the contract had reduced crime.
He said: "It's too early for them to be crowing from the rooftops and needs more analysis to what they [G4S] are claiming.
"To claim that privatising part of the administration has had an impact on crime is frankly spin of the worst sort."
'Success story'
John Shaw, managing director for G4S policing support services, said the savings outlined in its first year report stood for itself.
He added: "We were always clear that in order to make the savings there would have to be some job losses.
"However, the job losses have been much less than if the force hadn't outsourced."
Mr Shaw said G4S was in discussion with 10 other forces about a similar deal but would not name them.
PCC Alan Hardwick said Lincolnshire Police was a success story.
"They [G4S] are saving £5m, crime is falling, and the frontline stands at 1,100 officers.
"The [government] spending review is likely to outline billions of pounds of additional cuts to public spending. This is on top of sizeable reductions already made.
"For police forces, whose budgets are already nearly 20% leaner than in 2010, the challenge - to improve quality while finding savings - is about to get bigger."
He added that £1bn could be saved if the other 42 police forces in England and Wales followed suit.
John Hassall, from Lincolnshire Police Federation, said while he was happy with frontline police officer numbers, he feared civilian staff's terms and conditions could be squeezed in the future.
The £5m saved would be reinvested into policing costs for 2013-14, the PCC's department has said.
The police force had expected to make savings of £3.6m in the first year but exceeded this by £1.6m.