Chieftain battle tank bought by Californian for £41k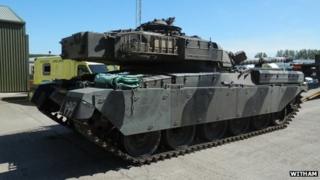 A fully functional chieftain battle tank has been bought at auction by a US collector for £41,000.
The 55 tonne tank from the Cold War era was auctioned by military specialists Witham in Grantham, Lincolnshire.
The bidder from California, had bought a WWII tank from the auctioneers three years ago for a higher price.
Paul Southerington, from Witham, said the tank was the ultimate "boy's toy" - and perfect for anyone who wanted the "kudos" of owning a tank.
Tank appeal
Mr Southerington added: "The high bidder is a wealthy entrepreneur who has a collection of military vehicles.
"These tanks cost so much money when they were built and the fact you can now own one and keep it in your back garden is a great thing.
"There are not very many of these tanks left considering how many were made. Sadly in the early 1990s a lot were put up for scrap.
"I know it doesn't appeal to everybody but there are a lot of people out there that want to have the kudos of saying they own a tank."
More than 20 bids for the tank came from the UK and Ireland, while others included three bids from the US, another from Holland and one from Australia.
The tank, which was said to have the most powerful gun in the world when it was built in 1966, will now see its gun deactivated before being shipped across the Atlantic.