Grantham Hospital: Plans to close birthing unit approved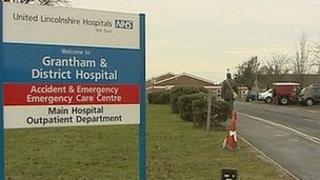 A Lincolnshire hospital is to lose part of its maternity service, despite protests.
The birthing unit at Grantham hospital will close, managers have said, but antenatal and postnatal care will be saved, alongside some midwife services.
Campaigners had demanded all services be protected to avoid journeys to other hospitals.
But South West Lincolnshire Clinical Commissioning Group (CCG) said the birthing unit was underused.
Earlier this year a consultation on the changes saw a 7,500 signature petition opposing an reduction in maternity services.
'Not a good day'
But hospital bosses pointed out there were only 140 births at the Grantham birthing unit in 2012 compared to 3,722 in Lincoln.
The head of the CCG, Alan Kitt, insisted it was a matter of patient choice: "We need to have more women to have the choice of a midwife-led birth in hospital and Grantham is not able to deliver that and we need to find somewhere that is."
He added other services would be improved: "For children, we are going to increase access to urgent care from five days to seven days (a week) and we are going to develop our acute medicine, so for people with long-term chronic conditions, maybe the elderly and the frail, they will get a good hospital service."
The campaign group SOS Grantham Hospital said it was "not a good day for Grantham or the NHS".
The timings of any changes and the location of alternative services have yet to be announced.