Arrest after armed police seal off flats in Lincoln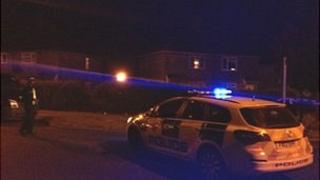 A 26-year-old man has been arrested after armed police sealed off a block of flats in Lincoln.
Officers were called to an area off Moorland Avenue after a police-installed alarm was activated at about 19:30 BST on Wednesday.
They were confronted with a man carrying what was thought to be a gun.
Specialist negotiators attended the scene. At 23:25 BST police said the incident had ended and two other people involved were "safe and well".
Lincolnshire Police said a number of residents were evacuated from neighbouring properties as a precaution but no shots were fired and nobody was injured.
Tactical Firearms Commander Chief Insp Daryl Pearce said a full investigation into the circumstances of the incident was now under way.