Grantham Hospital birthing unit closure 'not cost-saving measure'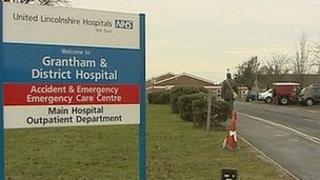 A decision to shut the birthing unit at a Lincolnshire hospital is not a money-saving measure, bosses have said.
On Wednesday it was announced the unit at Grantham Hospital would close, although antenatal and postnatal care are to continue to be offered.
Campaigners argue the hospital has been preparing for the closure for years and is "downgrading to a cottage hospital".
However, bosses say the decision will lead to more money being invested in other services.
Alan Kitt, head of the South West Lincolnshire Clinical Commissioning Group (CCG), said: "It's not about saving money, in fact we will be investing £1.5m in new services.
"If we get the quality right we will have good services.
"These changes will strengthen the future of the hospital."
Falling numbers
In 2012 there were only 140 births at Grantham compared to 3,722 in Lincoln.
After the closure, women will have to travel to Lincoln, Boston or Nottingham to give birth.
The SOS Grantham Hospital campaign group said numbers had dropped because women had been persuaded by doctors to go elsewhere.
Jo Churchill, Conservative county councillor for Grantham and Barrowby, said: "I understand why women want to have their babies in their local town but many women also choose to go to Nottingham, Boston or Lincoln. There just isn't demand for the centre in Grantham."
Christine Talbot, chair of Lincolnshire's health scrutiny committee, said women had been choosing other hospitals for many years.
She said: "The problem we have at Grantham is a lot of the pregnant ladies are vetted by their GPs to see if they are going to have a safe delivery and it has been far better for them to go where there is the obstetric care rather than being in labour and being transferred by EMAS to one of those hospitals if something goes wrong."