Oliver Scholes memorial fund raises £15k to find a cure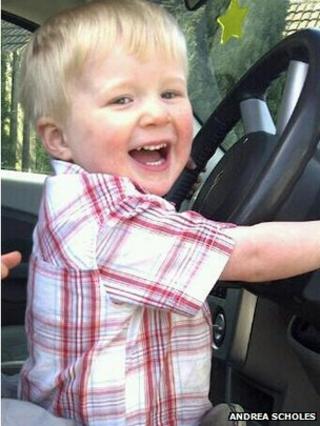 A Lincolnshire couple who lost their son to a genetic condition which affects just 200 families worldwide have smashed a fundraising target.
Andrea and Paul Scholes' son Oliver died only a few days after he was diagnosed with a genetic flaw and five days after his brother Toby was born.
In December, a campaign to raise £10,000 was launched.
With the help of friends and family and the Stamford Mercury where his mum works they hit £15,000 in six months.
Oliver was diagnosed with x-linked proliferative disease in May last year which led to haemophagocytic lymphohistiocytosis - a condition where his immune system battled a minor infection too hard damaging his body.
It first came to light when an ear infection failed to clear up despite antibiotics and gradually grew worse.
He was taken to the specialist children's intensive care unit in Leicester Royal Infirmary and while undergoing a battery of tests, Mrs Scholes went into labour and Toby was born.
For a few days the parents shuttled back and forth between the two children and, with Toby not allowed in with Oliver, only one could visit at a time.
But a diagnosis came too late and despite chemotherapy with the aim of eventually having a bone marrow transplant, Oliver died on 5 June, 2012.
His brother Toby had a 50% chance of suffering the condition but after an agonising wait for tests he was given the all-clear.
Since December, the family have been fundraising for the Histiocytosis Research Trust which is researching a cure.
Mr Scholes said: "We've had amazing support from people since we launched the appeal. I can't believe we smashed our target by so much after just six months."
The target was broken this week with a picnic at Burghley House in Stamford which raised £5,000.
Mrs Scholes, a reporter at the Stamford Mercury which has also helped with fundraising, said: "It was a great day and lovely to see so many families enjoying themselves but it was hard to be there without Oliver.
"Many of the attractions we planned were things he would have loved, like Peppa Pig and a Thomas the Tank Engine colouring competition, so it was a difficult reminder of how much we miss him."
The pair, who have both taken part in gruelling races and held other fundraisers, plan to continue boosting the charity's coffers for the next six months.