North Sea coastal observatory site move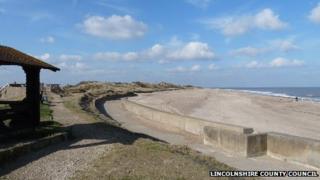 A planned observatory for people to view wildlife over the North Sea is being moved a few miles down the coast.
The £600,000 centre, funded by Lincolnshire County Council and Arts Council England, could now be built at Chapel Point, instead of Huttoft.
It is part of a scheme to create a country park along the coast between Sandilands and Chapel St Leonards.
If approved, the building would feature an art space, cafe and watch tower.
'Something unique'
The authority said it decided to look at other locations following a consultation over the original site near Huttoft.
Some residents were worried over increased traffic in the area.
However, Chapel parish councillor Patrick Naughton welcomed the move and said it would help to extend the summer season and bring more visitors to the area.
He added: "Chapel Point is a naturally beautiful area and any development must be in keeping with that."
Colin Davie, from the county council, said it would be "something unique to Lincolnshire".
The revised plans can be seen at Chapel St Leonards Primary School from 19:00 BST.
Construction is expected to take place during the winter with the building being open in 2014.