RAF Waddington air show: Record number of visitors expected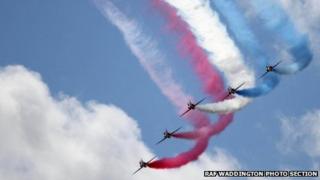 More than 125,000 visitors are expected to attend one of the UK's largest air shows this weekend.
Attractions at the RAF Waddington International Air Show include the Red Arrows, the Battle of Britain Memorial Flight and a Vulcan display.
Air show director, Paul Sall said the weekend would celebrate the 95th anniversary of the RAF and the 70th anniversary of the Dambusters raid.
Over the two days there will be 50 aircraft from around the world.
Mr Sall said: "We are celebrating both anniversaries so as you can imagine we have a cross section of flying capability on show and there will be many highlights."
French team
He warned they had seen the biggest ever advance sale for tickets and there would be only a few available at the gates on the day.
"The safety and security of our visitors is at the forefront of our minds and we have a secure plan in place to look after everybody," he added.
"Traffic is the one thing we have worked very hard on and our plan for the last two years of opening up extra parking space has helped enormously."
Special guest is George 'Johnny ' Johnson who was one of the original 617 Squadron when it formed especially for the Dambusters Raids.
Wing commander Garry Crosby from 51 Squadron at RAF Waddington, said: "We will have a seven hour flight display on each day with teams from all over Europe.
"Highlights will be the French team closing on Saturday and the Red Arrows on Sunday."