Cherry Willingham dog off lead ban 'unenforceable'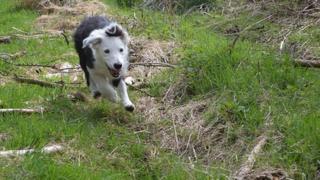 A parish council has admitted imposing its ban on off-the-lead dogs will be difficult - because they do not have anyone to enforce it.
Under the control order, people in Cherry Willingham in Lincolnshire have to keep their dogs under control in all public spaces.
It said the measure was to stop owners letting their dogs foul on people's gardens and outside the school.
But some residents said the council needed to be clear how it will work.
The ban means that anyone who fails to comply with any aspect of the order will receive a fixed penalty notice.
However, as the council admits, the authority does not have anyone to enforce the order and catch owners out.
Helicopters circling
Councillor Irmgard Parrott said the control order was introduced after a number of complaints were received.
She said: "I think it is justified - early morning and late evening you do get some people letting their dogs just run about and mess.
"It's very unpleasant."
However, asked how the ban would work she replied: "This is my concern.
"I must admit - it's alright introducing these laws - but in practice, catching the people and policing this is very difficult.
"We don't have anyone available to do it.
"I have spoken to other parish councillors and a lot of them are concerned [about how it will work]."
She added that it would also be difficult to expect people to keep their dogs on leads at all times.
The council said it hoped the order will at least act as a deterrent and make people think about their dogs in public places.
In the main, local residents agreed with the measure of keeping dogs on leads in built up areas - although some said it was unfair for dogs to be banned from running around in surrounding fields.
One resident said the council should have considered how the control order would work before introducing it.
She said: "Are we going to have helicopters circling overhead? You imagine all kinds of daft things."
One council in Devon is considering giving powers to refuse collectors and park attendants to impose a local control order.