Lincolnshire Fire and Rescue to increase stations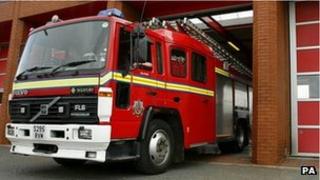 The number of fire stations staffed 24 hours a day in Lincolnshire is set to increase from six to nine.
Lincolnshire Fire and Rescue said it would invest £3.5m to upgrade part-time stations in Spalding, Sleaford and Louth to full time.
It added the proposals would create 12 new firefighter roles and make it a more resilient service.
Chief fire officer Dave Ramscar said some of the recruits would also be trained for flood response work.
However, even with the changes Mr Ramscar said there would still only be nine fire engines staffed by full-time crews.
'Financial constraints'
He said: "Lincolnshire is a vast county and we are still primarily a retained brigade.
"Our on call staff do an absolutely brilliant job around the county - but ultimately they've got full-time jobs outside the service - so we only have a limited amount of time to train them in a vast range of skills.
"The whole time staff we have for 42 hours a week - so we can train them in a much wider range of skills and they are able to support our retained staff as well."
He added that, despite the service saving £1.2m from its budget since 2010, financial constraints would continue to be a factor in how the service operated in the future.
Work is expected to be completed on Spalding Fire Station, in West Elloe Avenue, by November. Accommodation will also be built for firefighters to use when they are on shift.
Louth and Sleaford fire stations should both be redeveloped by December 2014.
Full-time crews are currently located in Boston, Gainsborough, Grantham, Skegness, Lincoln North, Lincoln South.