Bird and chicken spend nights in Lincolnshire hen house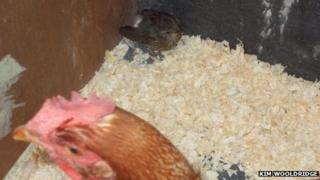 A young robin has been spending cosy nights with a chicken in a Lincolnshire hen house.
Kim Wooldridge, from Bourne, said the bird started sneaking in from Saturday, before hopping out each morning.
Mrs Wooldridge said she was concerned the juvenile had been orphaned.
The RSPB said it was more likely the fledgling, which can be flightless initially, was looking for shelter to protect itself from predators.
Mrs Wooldridge said: "We heard a noise and wondered what was going on in there [the hen house].
"We looked in to see a baby robin in the corner. We think it was feeding himself from the chicken's food.
"It is very sweet as she hops down the ramp after the hen. They're obviously friends."
Richard James, a wildlife advisor for the RSPB, said: "Robins leave the nest to exercise their wings but you often see them scurrying on the ground close to cover.
"They'll hide under plant pots and hedges, usually."
Mr James said the bird's parents would not be far away during the day and will feed the youngster until it can support itself.
"When he's strong enough to fly he'll probably move on," said Mr James.