Norbert Dentressangle pet food store blaze near Grantham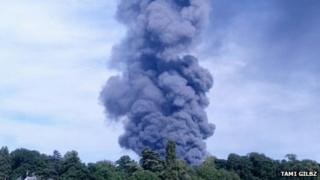 A huge fire at a storage plant near Grantham has prompted fears of asbestos fumes escaping.
The blaze erupted at about 15:15 BST at the Norbert Dentressangle plant on Burton Lane in Easton, near Grantham.
Eyewitnesses said the smoke could be seen for miles around and motorists on the nearby A1 have been warned of possible reduced visibility.
The site has been evacuated and police advised people to stay away from the area due to a risk of toxic fumes.
Lincolnshire Police said people living nearby have been told to stay indoors and keep "doors and windows closed due to smoke and the possibility of asbestos dust".
There have been no reports of casualties.
Chief fire officer Mick Green said: "The fire is in an area used to store pet food and it could threaten the cold stores as well."
He said crews were desperately "trying to stop it spreading".
Fire crews from Nottinghamshire, Lincolnshire and Leicestershire are dealing with the blaze, which is expected to take a number of days to put out.