Morton Hall detainee held for nearly three years, report finds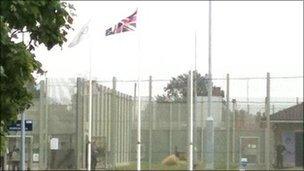 An asylum seeker has been detained for three years without trial at a Lincolnshire centre, a report reveals.
Inspectors at Morton Hall Immigration Detention Centre praised recent improvements but raised concerns that many people were held for too long.
Immigration Minister Mark Harper said the Home Office "enforces the return" of people in the country illegally.
Campaign group Detention Action said the UK should put a time limit on how long people were held.
But HM Inspectorate of Prisons said it was "pleased to see physical security" had been upgraded since the disturbances.
And it said, overall the centre was a "safe establishment" for detainees and security staff.
However, the report outlined a number of recommendations including ending the practice of locking the men in their rooms after 20:30 BST. It also said staff should not carry batons, and detainees should not be handcuffed when transferred to other areas.
Nick Hardwick, HM Chief Inspector of Prisons, wrote: "Some of the detainees had been held for very long periods: one for almost three years, 22 for over a year.
"We were told detention was justified in some cases because there was a high risk the detainee would reoffend if released - but there was nothing that detainees could do, as they could have done in a prison, to demonstrate their risk had reduced."
Jerome Phelps, of Detention Action, said the UK's position on immigration detention put significant stress on detainees because they did not know when they would be released.
"The length of detention in the UK is a huge issue. This country is unique in not having a time limit on detention without trial," he said. "Three years is unusual but very far from unheard of."
Related Internet Links
The BBC is not responsible for the content of external sites.