Mallard's Grantham return: Work under way to welcome record-breaker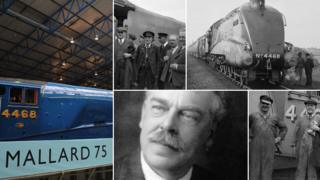 Preparations are under way for the return of the world's fastest ever steam locomotive to the place where it set the record.
Mallard broke the world speed record for steam in 1938 at 126mph (203km/h) near Grantham, in Lincolnshire.
The locomotive will return on 7-8 September as part of the free Festival of Speed.
Work is taking place at a disused railway siding, which will be used to accommodate the engine.
'Great British invention'
The festival, which marks 75 years since Mallard set the record at Stoke Bank - just south of Grantham, will also feature streamlined racing cars from the 1930s and celebrate the town's engineering heritage.
Project manager Neil Lindley, who is responsible for preparing the site, said: "My grandfather was lucky enough to be a fireman on Mallard.
"I think that era compared to what I do in this day and age is worlds apart, but the thing I love is that the history is still there - and still going strong in the industry."
Visitors will also be able to view a Deltic locomotive - Mallard's high speed diesel successor.
Locomotive enthusiast Henry Cleary, who has been involved in organising the celebrations, said Mallard was a "great British invention".
He said: "This is the fastest steam locomotive in the world.
"Of course, there was a lot of international competition for that title - and we will be telling that story too."
He said speakers from Berlin would be at the festival talking about German efforts to break the record.
The two-day event has been organised by a partnership which includes South Kesteven District Council and Lincolnshire County Council.