World War Two veteran's quest to find former crew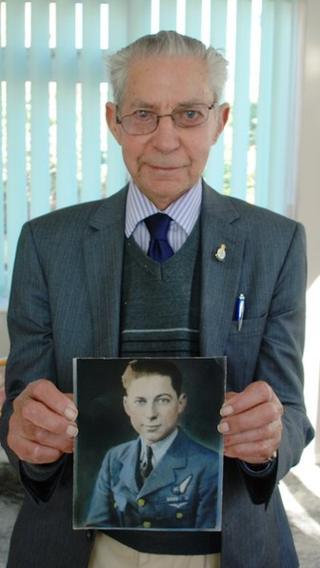 In a cloud-filled sky nearly 70 years ago, hundreds of Lancaster Bombers were making their way towards occupied Europe.
Among the fleet were the Pathfinder squadrons - select crews whose job was to find and illuminate the target for the other crews to bomb.
Being one of the Pathfinders was dangerous work. Their job was to stay on the target, circling it and guiding the rest of the force.
As such, they were easy for the enemy to spot - and sometimes, even at risk from their own crews.
On the day in question in 1944, the crew of the 97 Squadron narrowly missed being hit by falling bombs from a Lancaster above them. Instead, they saw a plane behind them explode.
Their own plane suffered some damage but the crew were able to make it back to their base at RAF Coningsby.
'Quite an adventure'
Required to show remarkable courage under fire, the Pathfinder crews grew close during the war.
But afterwards, their lives moved in different directions. Many lost touch.
It was not until he reached the age of 87, former gunner Douglas Cannings decided to research what had happened to his former comrades.
He said: "As a crew, we were close. We always went to the pub together and we gave each other nicknames.
"Mine was 'Pitch' because I wasn't very big! But after the war, we lost touch."
Mr Cannings himself moved to Cambridgeshire and set up as a self-employed builder.
The catalyst for Mr Cannings' research came when he was contacted by a Belgian historian who asked for his assistance with a book he was writing about the raids.
"He wanted to meet somebody who had taken part in them," explained Mr Cannings.
Mr Cannings visited Belgium in 2011 and was surprised at the interest in the Pathfinders.
"There was no animosity towards us," he said. "They were grateful to us for minimising the civilian casualties during bombing raids."
When he returned from the trip, Mr Cannings grew determined to find out whether any of his 97 Squadron colleagues - and those of his previous squadron 100 - were still alive.
Together with his daughters, Sandy Cannings from Eaton Foken, Cambridgeshire, and Sharon Cannings from Ruskington, Lincolnshire, and aided by genealogists and historians, Mr Cannings set about tracking down all 13 of his former crew members.
Sharon Cannings said: "Unfortunately, we didn't find any who were still with us. They either didn't survive the war or died later on.
"But we did manage to trace sons, daughters, aunts and even one wife."
The two-year quest saw Mr Cannings and his daughters comb through archives, records and the internet in search of the crews.
"Some of them were reasonably easy to find because they had unusual names," explained Ms Cannings. "We found the family of one of them on Facebook - Cyril "Dusty" Menear - which I believe is a Cornish name."
Others proved more difficult. In total, the family traced 12 men but were unable to find one - a tailgunner named Gordon Brown.
"The only things we know about him are that he was in the 97 Squadron and dad thinks he came from Yorkshire and played rugby," said Ms Cannings.
"We searched through emigration logs - everything - but it's such a difficult name to trace."
Now 89, Mr Cannings will be joining the other crew's family members at RAF East Kirkby in Lincolnshire for what is being called a "reunion day".
There, he will go on a taxi run in a restored Lancaster named Just Jane, with family members of his former crew mates taking their places in the plane.
Asked about his memories of those days in the sky, Mr Cannings said: "It's all a bit vague now. It's a long time ago. But it was quite an adventure really."
His daughter Sharon, who runs a film production company in Lincoln, has been recording a documentary about her father's quest, to which the reunion will form an emotional climax.
Ms Cannings said: "Dad still doesn't think he did anything special. In fact, he's a little bemused by all the attention.
"But he is happy we've managed to trace some of the surviving relatives of his crew."