Call for rethink over EMAS station closure plan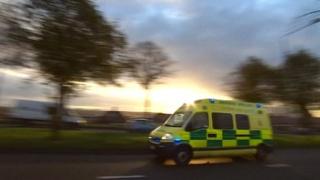 Unions and health watchdogs are calling for East Midlands Ambulance Service (EMAS) to put its controversial plans to close stations on hold.
The service intends to reduce the number of stations from 65 to 28, replacing them with nine "super hubs", smaller stations and community points.
The calls, from groups across the East Midlands, follow EMAS chief executive Phil Milligan's resignation on Friday.
EMAS said Mr Milligan had left them "with clear plans for the future."
'Complete rethink'
But campaigners from Lincolnshire, Leicestershire, Derbyshire and Nottinghamshire said the proposals should be postponed or even dropped altogether.
Colin Todd, from the GMB Union said: "We will be requesting the programme is postponed so we can discuss a better way forward.
"As a trade union, our members are telling us they don't want to close ambulance services. We want to improve things and that's the key."
He said the union was requesting a meeting with interim EMAS chief executive Jon Sergeant.
Steve Score from Leicestershire Against The Cuts, which has campaigned against station closures in the county, added: "I think there should be a complete rethink about the plans.
"EMAS should consult the trade unions and the public again and think again about how they can improve the service."
'Infrastructure problems'
Councillor Christine Talbot, who chairs the health scrutiny committee in Lincolnshire said: "This is an opportunity for EMAS to look again at their plan.
"Lincolnshire is a very rural county and we have huge infrastructure problems on the east coast. It's not easy to get an ambulance there."
The committee has referred EMAS's plans to Health Secretary Jeremy Hunt, following concerns about the service's consultation over the proposals.
But Ms Talbot said they are unlikely to hear the result of the referral before September.
She added: "We've got to get it right this time. We can't mess about any more. The people of Lincolnshire deserve a better service."
Wayne Rowland, the Derbyshire leader for UNISON, said postponing the plans would be the "sensible thing to do", in light of public concern about 16 station closures in the county.
Five-year plan
EMAS has been fined £11m over three years for missing response time targets.
In March, their five-year plan to create the "super hubs", 19 smaller stations and 108 community points was approved by its board.
The service said the new structure would improve response times.
A spokesperson for EMAS's board said: "Phil Milligan led the organisation through a time of significant change. He leaves EMAS in a considerably better shape.
"The whole board extends its thanks for the improvements made and wishes him well for the future."
He added there were no plans to postpone the ambulance station proposals.