Branston solar farm 'could power 8,000 homes'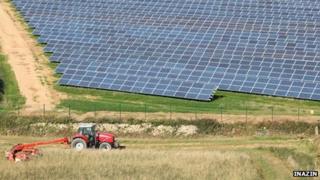 A solar farm proposed for Lincolnshire could power up to 8,000 homes, the firm behind it has said.
The 160 acre (64 hectare) energy park is planned for an area south of Branston, and could generate between 34 and 40 megawatts of electricity.
Inazin Power said the energy generated would feed into the National Grid but benefit local people.
A public consultation is due to be held at All Saints Church Hall in Branston village on 28 August.
The solar farm would have more than 100,000 panels spread across several adjoining fields.
Stuart Homewood, from Inazin, said: "The panels will be completely modular and no different from panels on people's roofs.
"It's an excellent area where we can get an economic grid connection so you don't have any additional infrastructure."
He added that the panels would only be 2m (6.5ft) from the ground and would not need much screening.
The company hope to put in a planning application to North Kesteven District Council later in the year.